The heart of the event registration module is the ability to build a form that registrants can easily fill out online to register for the event. Our module gives you great flexibility in offering a registration tailored to your event and your members/event attendees.
Event Packages
Member Versus Non-Member Options
Discount Codes
Bulk Discounts
Cut-off Dates
Early Bird Discounts
Registration Integration
Prospect List Integration
Online Payments
Banquet/Table Registration
File Uploads
Custom Fields
Custom Verbiage
Public, Members Only, or Invitation Only
Waitlists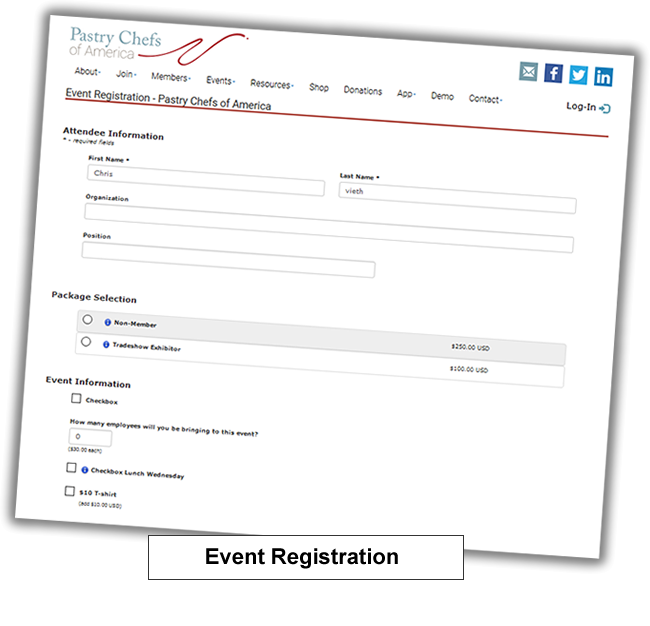 For tradeshows, we offer a sophisticated feature that allows vendors to sign up for booth space via an interactive map.
Booth Map
Vendor Info Collection
Booth Map Editor
Booth Registration Management
Our system has multiple features to keep track of who attends your events and what they participate in over time.
Event Registration Attendance
Session Check-in
CEU/CEC Tracking
Calendar Attendance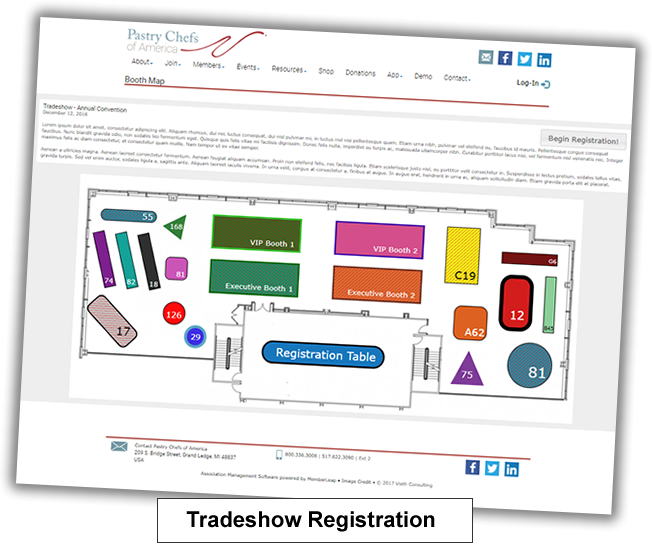 We offer a powerful and unique event mobile app solution, which allows your members quick and easy access to information during your events. When your members attend your events, this is a great way to provide interactive solutions and deliver information during a busy conference.
To aid you in preparing for and running your events, many features are included to report on attendee data.
Attendee Reporting
Name Badges / Labels
Sign-In Sheets
Payment/Invoice Reports
Data Export
All Event Reporting (pulling in data from across multiple events within a time range)
S
everal features exist to make administration easy; before, during, and after the event.
Attendee Management
Recurring Events
Billing/Collections Tools
Admin-Only Data Fields
Copying Events
Event Categories
Fast Check-in Tools
Attendance Tracking
CEU/CEC tracking
Event Admin Permissions
Built-in, effective communication can make events run smoothly.
Broadcast Email Messaging
Invitation Emails
Confirmation Emails
Reminder Emails
Broadcast Text Messaging
Event Surveys
vCalendar File (add-to-calendar link)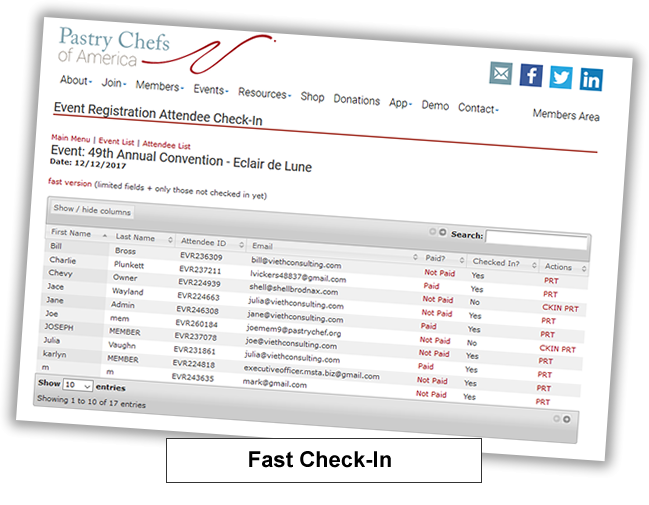 Before your events, if you also conduct a 'call for proposals, a 'call for presenters' or a 'call for articles' in preparation for your conference, convention, or publication, ConferenceLeap offers an extensive module that allows potential presenters to submit their proposals online. After which, you can organize committees to screen and rate the proposal to make a selection.
In order for an event to be successful, it takes a lot of volunteers. You can set up volunteer sessions, opportunities, and time slots available for your members to easily register for, track volunteer hours, assign volunteer coordinators, and run various reports.